This contemporary home design in Adelaide revels in family-friendly design while supporting a strong indoor/outdoor connection. When architect Sally Wilson and her husband Mark purchased the home in 2011, it was only the beginning of their journey into realizing their dream home. The house came to completion in 2018 and Mark, Sally and their children enjoy a modern family life in close connection to nature.
The previous owners had a family history of sixty years with the Timberland home, which included the planting of a little seed in the backyard in the early years. By 2011, a giant oak tree embellished the garden. The giant oak is just one of the factors establishing a peaceful feel. It is no wonder that the old oak served as inspiration for the renovations carried out by Sally and her own company design crew sw-architects.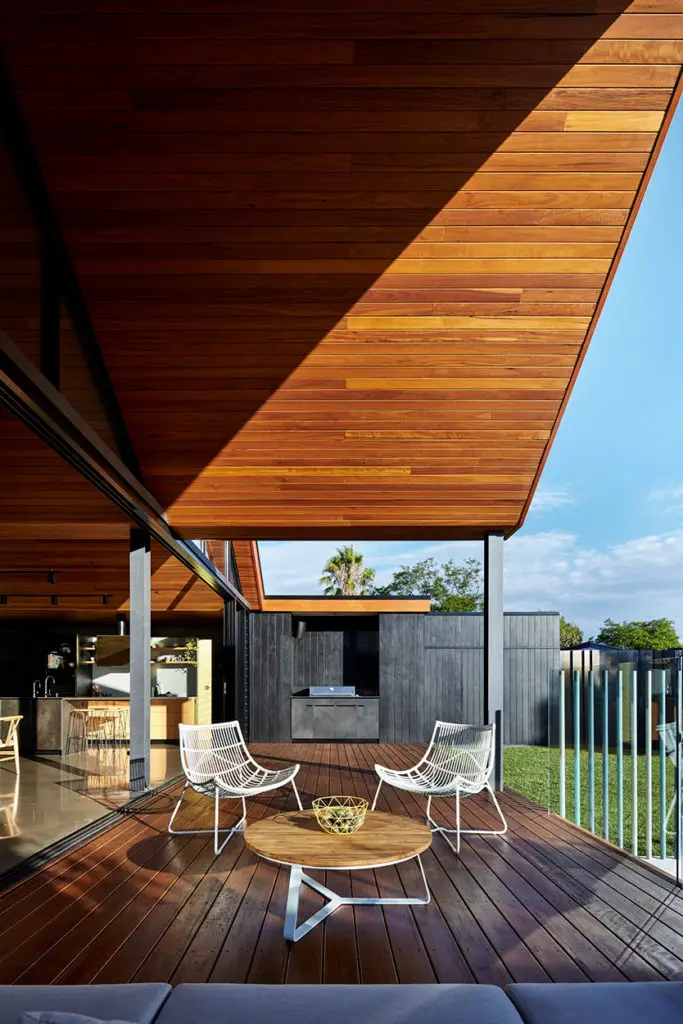 Much of the home favors timber as a material for ceilings, the outdoor deck and pieces of furniture. In addition to providing heat insulation, timber is a sustainable option due to its low carbon emissions.
The rest of the color palette varies from room to room: the kitchen wears earthy tones including darker and lighter shades of grey, light wood timber, and a light shade of teal. The overall look is sleek and each cupboard, kitchen counter and benchtop is a different material, creating textures and adding richness to the space.
Floor to ceiling glass door slides open from kitchen to an outdoor deck, which serves as a space for get-togethers around the barbecue. The same laminam porcelain in Ossidio Nero by Steedform which is found on the barbecue doors outside gracefully decks the kitchen counter, creating a subtle connection between the interior and exterior dining and cooking spaces.
The interior spaces are purposely open and a breezy feel carries throughout the home. Glass walls border both sides of the living room, allowing an endless amount of natural light to pour in throughout the day. Two terraces – one for dining and one for lounging – run adjacent to the living room and large glass doors slide open to each side.
Outside, the backyard is split into two rectangular blocks: one of these spaces is taken up by a large grass-filled garden area while the otherside hosts a pool. Glass fencing adjacent to the pool provides a polished appearance while ensuring the safety of children playing in the garden.
A large wooden deck at the back of the house includes an outdoor living room. The color scheme remains sleek and natural. Floor to ceiling windows lined up at the back further the indoor to outdoor connection, while parents can overlook the activities of their children outside.