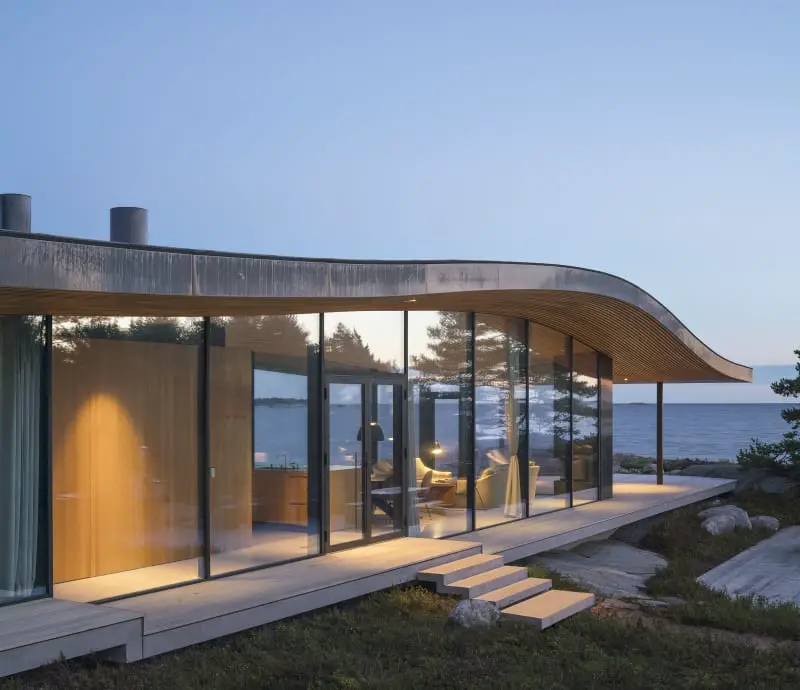 This contemporary home design soaks in the beautiful surrounding landscape. Situated in Helsinki, Finland, the Summer House rests on smooth hilly rocks dotted by shrubs and moss, surrounded by pine forest vegetation and the open sea that opens out from in front of the house. The project by Oiva Architects Ltd came to completion in 2016 and was nominated for the Mies van der Rohe Award the following year.
Finnish summer houses are very common and serve as a sacred place to connect with nature. The country enjoys seasonal changes and with that, an ever-changing scenery. This glass pavilion is designed as such for a pair of adults.
The structure is small, covering only 90 square meters and it includes all the comforts for escaping the busy city life.On one end, an open plan kitchen, living room and dining areas flow from one to another. On the other end the master bedroom looks out over the open sea as well as the surrounding pine landscape.
A large patio encircles the glass pavilion, extending further at the ends of the building. The roof also extends over the structure and is a piece of art in itself. Taking shape partly in waves, the altering roof mimics the shape of the natural rocks.
The long eaves help protect from the sun and the rain, while connecting indoor with outdoor. The shape as well the materials used are in tune withthe surrounding landscape, forging a seamless connection between the building, inside and out.
The terrace, which is made of in-situ concrete and wood, provides plenty of space for outdoor living. The house is completely transparent thanks to all facades being floor to ceiling glass. The sheets of glass are accented by copper and painted metal. Another outdoor space is found to the side of the home where steps lead down to an outdoor eating area.
Inside, oak, steel limestone and copper are utilised. The spaces are modern, clean and simple and the glass box really unites the landscape and architecture.