Regular viewers will have seen this site cover a few Palm Springs houses lately. An article earlier this month featured a William F. Cody house in Camino Norte and last month there were features on homes built by Donald Wexler and William Krisel.
Now it's the turn of another master of Palm Springs modernism, E. Stewart Williams. The house in question is situated in Rancho Mirage.
Williams worked with his father and brother in the amusingly-named Williams, Williams, & Williams firm. The firm made its name producing Frank Sinatra's house, convincing the singer to accept a modernist design over the Georgian style he originally asked for. The slightly less militant approach they pursued with Sinatra set the mould for their subsequent designs.
The Kenaston House is a good instance of this approach. Whereas all the mid-century hallmarks are there, there is a rich warmth to the design. In this regard, perhaps the distinguishing feature is the prevalence of walnut panelled walls, finished, polished in light brown.
The most striking of these is in the bedroom with panels at various protrusions so as to create a wonderful textured finish. Either way, this is an immaculate example of the Palm Springs modernism.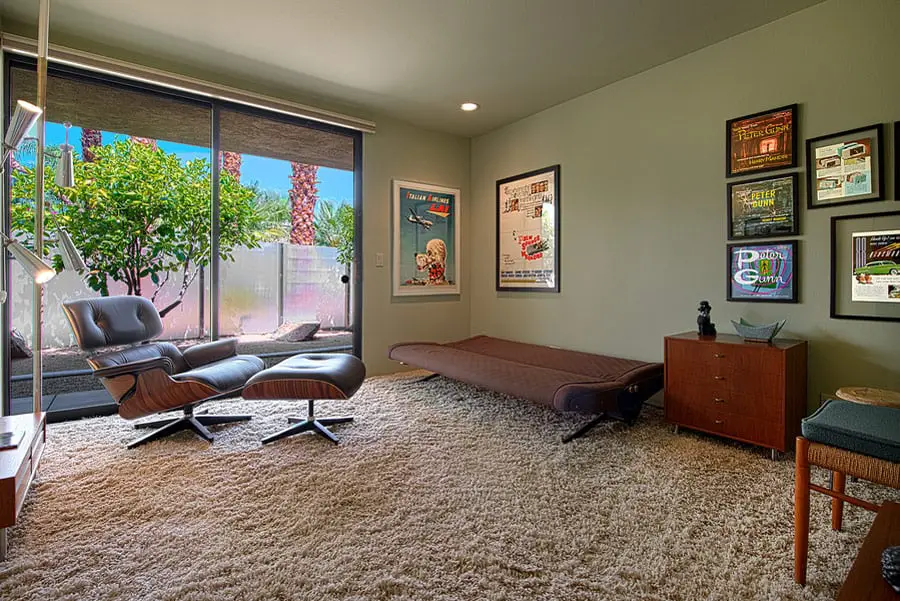 Photos by Ketchum Photography