Text from STITCH Design Shop The Pine Valley Residence was designed and built by Architect Kenneth Burge in 1958. 
The house is a combination of concrete, steel, and wood construction. Originally built on exposed concrete columns the underside of the home was open air and the most popular place for neighborhood kids to play according to Wayne Burge who grew up in the house. 
In the 1970's the lower level was enclosed to incorporate a den, a third bedroom, and an outdoor patio / storage area. Kenneth Burge and his wife Emily lived in this house until Kenneth passed away in 2017. 
The house sat vacant for a period before Pete Fala, an architect with STITCH Design Shop, discovered it and created a friendship with Wayne Burge who was selling it on behalf of his parents.
The Pine Valley Residence meant a lot to Wayne and he wanted to see somebody give it new life and pay homage to his Father's legacy.  Pete acquired the home in 2018 and began the renovation. 
The house sits on a sloping wooded site and nestles nicely into the landscape. The low-slung form and carport create a horizontal composition against the wooded backdrop. 
The building is somewhat opaque on the public façade featuring clerestory windows whereas the more private rear of the home has considerable transparency. Circulation is anchored to the rear affording continuous views throughout.  
The simplicity and level of custom detailing in the home were extraordinary. There was clear delineation of public and private space that was maintained in the renovation. 
The general flow of the home was preserved although some interior walls were reconfigured to accommodate modern living. A roof with steel V columns was added to the existing patio on the rear but no additional square footage was added during the renovation.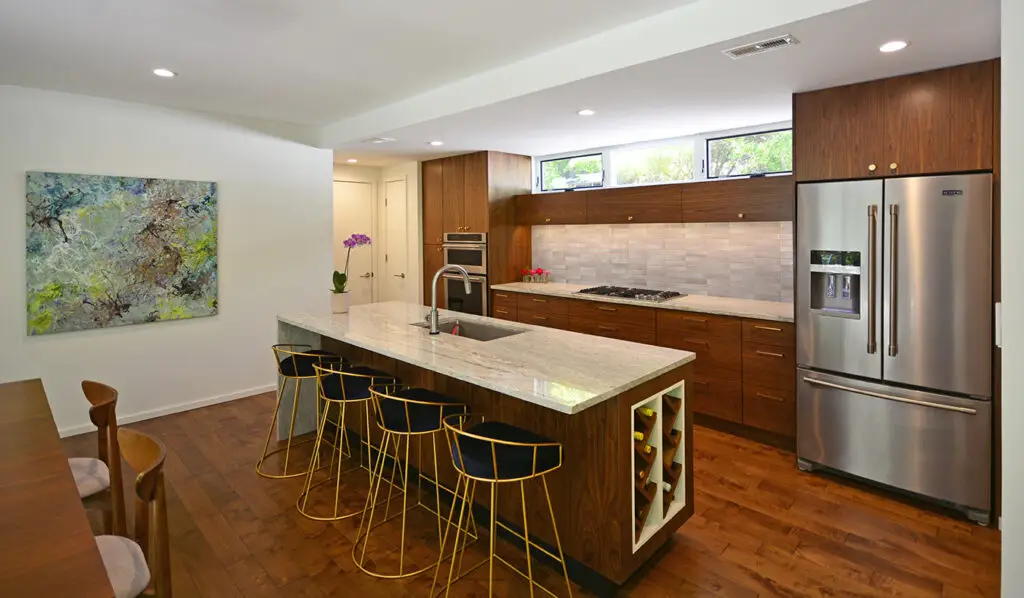 This project was more about uncovering, replacing, and enhancing versus reimagining. By removing much of the overgrown landscaping, the house was given room to breathe again. 
Redwood siding was removed and replaced with vertical cypress in a warm tone complimenting the white stucco accents and wooded backdrop. Several custom interior pieces were repurposed, even the original Frigidaire wall oven was saved and now serves as a custom wine cabinet!
For most of the would-be buyers this home was in the crosshairs of a bulldozer. Wayne was adamant about not letting that happen, and for that, we are all thankful.