The Achille Castiglioni Arco floor lamp has been one of my favorite lamps ever and -after the Achille Castiglioni Biography and the post about the Toio lamp– today I decided to finally write about it.
The Achille Castiglioni Arco floor lamp has been inspired by a common object: a street lamp.
Achille Castiglioni had the idea to design the Arco observing how often the electrical output for hanging lamps was in the middle of the ceiling while not all the tables were positioned in the middle of a room. Trying to solve this simple problem Achille and Pier Giacomo Castiglioni designed the Arco lamp.
The Arco floor lamp is made of an arched steel arm fixed to a white Carrara marble rectangular base.
The original telescopic arm of the  lamp allows it to lighten at a distance of over 2 meters from the base: in this way people can easily move and position a table with chairs underneath.
A Castiglioni design peculiarity was to adopt simple and adjustable mechanisms for his products: the Arco lamp is not different.
The telescopic arm of the Achille Castiglioni Arco floor lamp is made of satin-finished stainless steel and a varnished aluminium shade. Because of the marble base, the Arco lamp weighs 45kg, but can be easily lifted thanks to a hole in its base that allows two people to insert a broom handle and move it.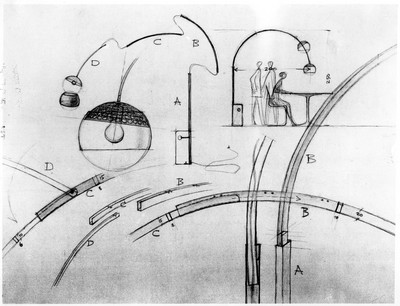 The design makes it pleasant and original at the same time. This is a typical element of the Castiglionis' designs: inspired by common objects updated with genius and irony.
The Arco floor lamp expresses the Achille Castiglioni design philosophy based on the analytical approach to materials, technologies, shapes and final use of an object; the Arco lamp summarize those characteristics in one and that's why it has been so successful over five decades.
The Arco lamp was designed by the Castiglioni brothers in 1962 for the Flos lighting company, with whom they built a successful cooperation and that still manufactures the Arco as many other Castiglionis' lamps.
During their collaboration, Castiglioni and Flos re-invented the purpose of interior lighting across the Italian Mid Century golden age.
After more than 50 years, the Achille Castiglioni Arco floor lamp is still a best seller and one of the most desired mid century modern lamps ever.
Did you know already about the Arco lamp and its history? Let it me know in the comments!
IF YOU LIKED THIS POST, I WOULD APPRECIATE YOU TO SHOW YOUR LOVE WITH A FACEBOOK 'Like' BELOW.
As always I want to remind you that you can follow MCH through the brand new Facebook Fan page, Twitter and joining the free weekly mailing list.
You will only  receive original content about mid century that I don't publish on MCH.
Don't wait and join the mid century enthusiasts community, now!
Thanks for reading and ciao!