The McGrath House is the kind of building that really stands out. Sitting in an otherwise fairly nondescript neighbourhood, it bears several bold features that you rarely see in contemporary home design.
Built on the site of an old tennis court in 1957 by architect Peter Muller, the mid-century modern house is located in New South Wales, Australia, only a short walk away from Lady Martins Beach in Point Piper.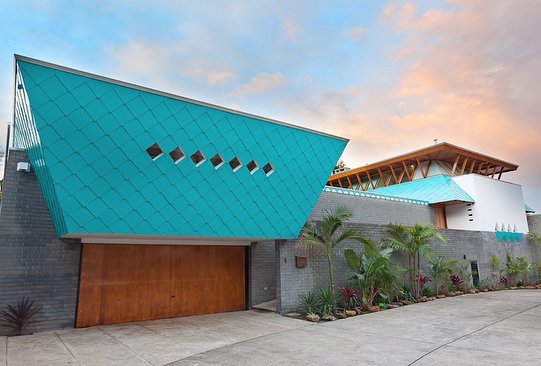 To start with, the most immediately striking feature of the house is the colour of its exterior.
Turquoise tiling provides the exterior material for a substantial section of the house. Arranged in a diamond pattern, the sheer façade is only momentarily interrupted by a set of similarly diamond-shaped windows.
ALSO READ: E. Stewart Williams' Understated Palm Springs Modernism
Besides being a nice compliment to the bright blue sky in the pictures, there's a touch of Frank Lloyd Wright about this feature and a bunch of others. Like Frank Lloyd Wright homes, there's a clear nod to ancient architectural forms, repackaged in a slightly new way, with slightly new materials.
Like Wright's houses, in the McGrath House we see a lot of geometric patterns and peculiar structural formations. For instance, in several parts it inverts the traditional roof shape, having it extending outwards as it goes up.
There is also a parallel with Wright's "prairie style", which was mostly manifested in a series of homes built in Chicago, where the design was intended to evoke the broad, flat landscape of the American Midwest. Here, you can replace the American Midwest with the expansive Australian landscape, but still see the same sense of scale and ambition.
Another notable idiosyncratic feature is evident in the main living area being situated on the first floor rather than the ground floor, since the brief required three stories in order to fit the six bedrooms the family wanted. To mitigate, the architect inserted a ramp at the entrance, so that visitors would enter into the first floor.
All of this, and more, go to show that Muller is an architect worth looking into further.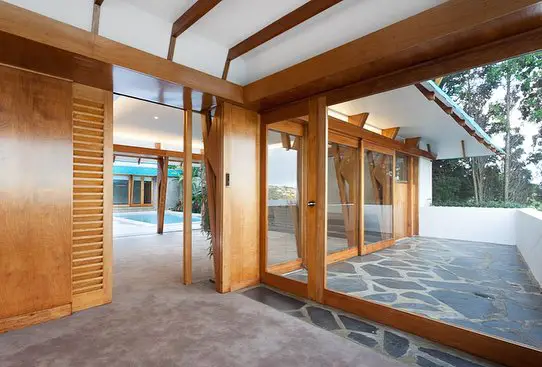 Photos via Instagram user @the_modernist