This mid-century style home was built by architect Robert C. Metcalf, to serve as his family home. Built in 1954, it is located on the University of Michigan campus.
Metcalf's work has made a deep impression on the housing landscape of Michigan, and the neighbouring state of Ohio. During a career spanning over four decades, in which he completed over 150 projects, he was one of the most significant proponents of modernist design in the area.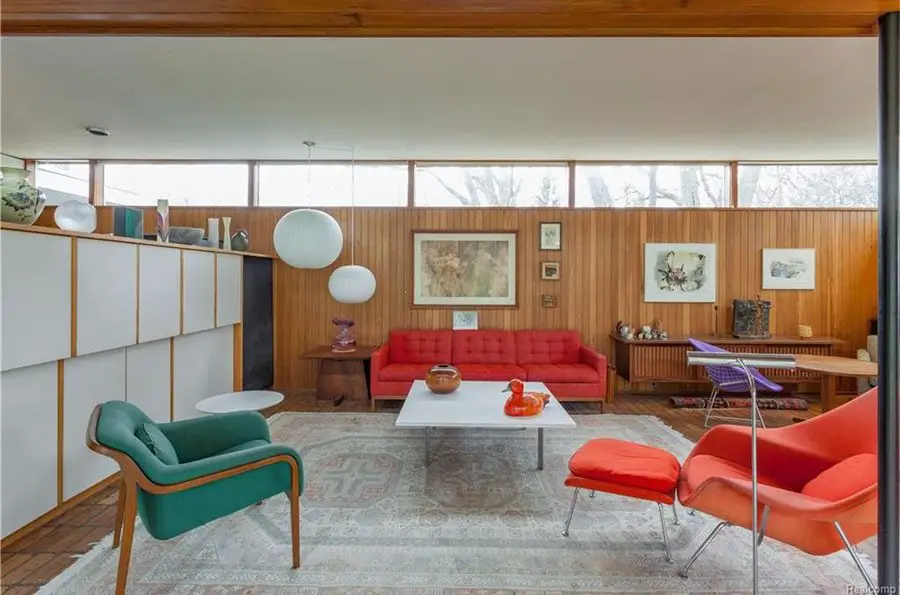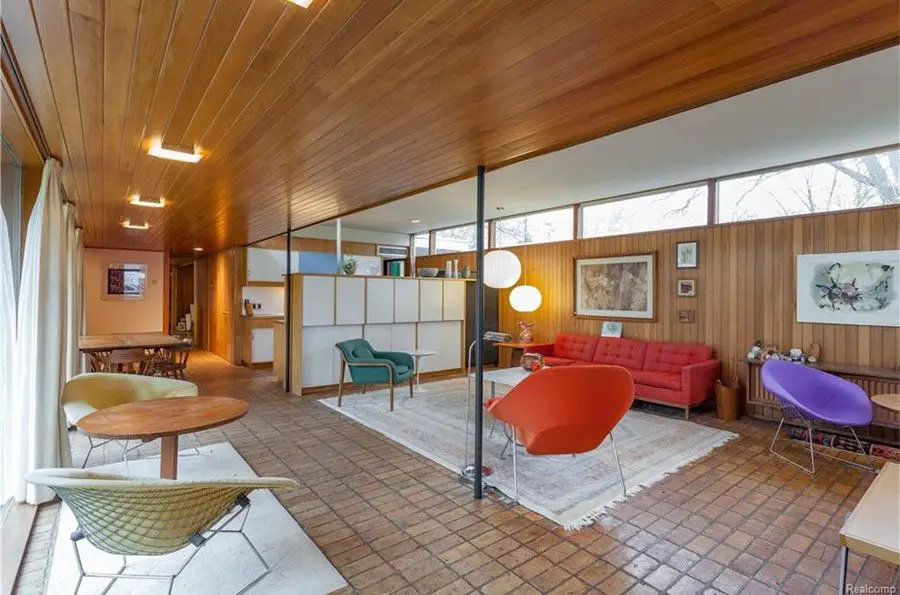 As well as this, he distinguished himself as an educator, becoming a professor at the University of Michigan, his alma mater, a few years after graduating, and eventually rising to the position Dean of the Faculty of Architecture.
ALSO READ: A Carefully Restored Mid-Century House, Is All About Its Owner Passion For Good Design
Metcalf is best remembered for the special attention he paid to a home's furnishings. For him, furnishings were as important as the home's design. In practice, this mean that, when he was preparing sketches for a contemporary home design, he would often include furniture by the pre-eminent furniture designers of the time, such as Eames, Bertoia, Nakashima.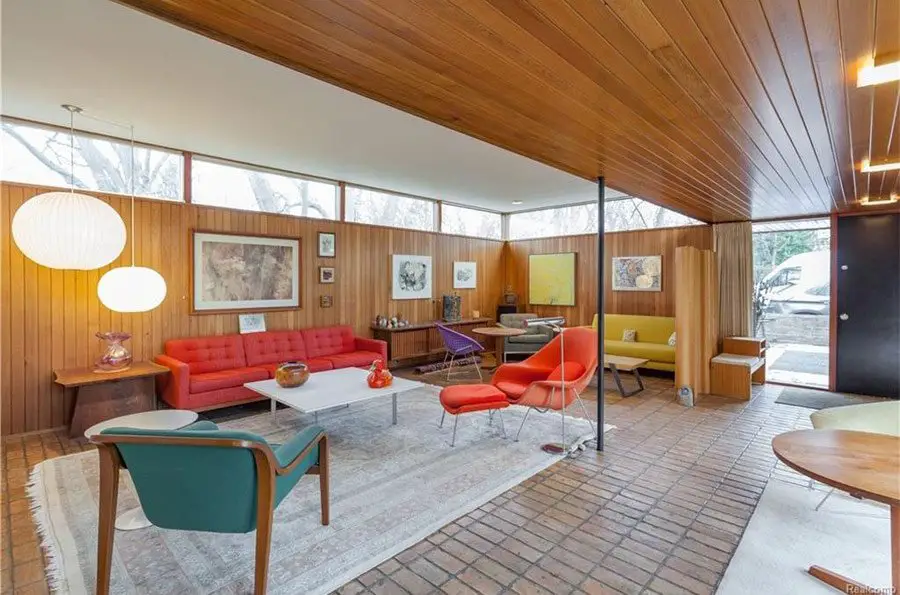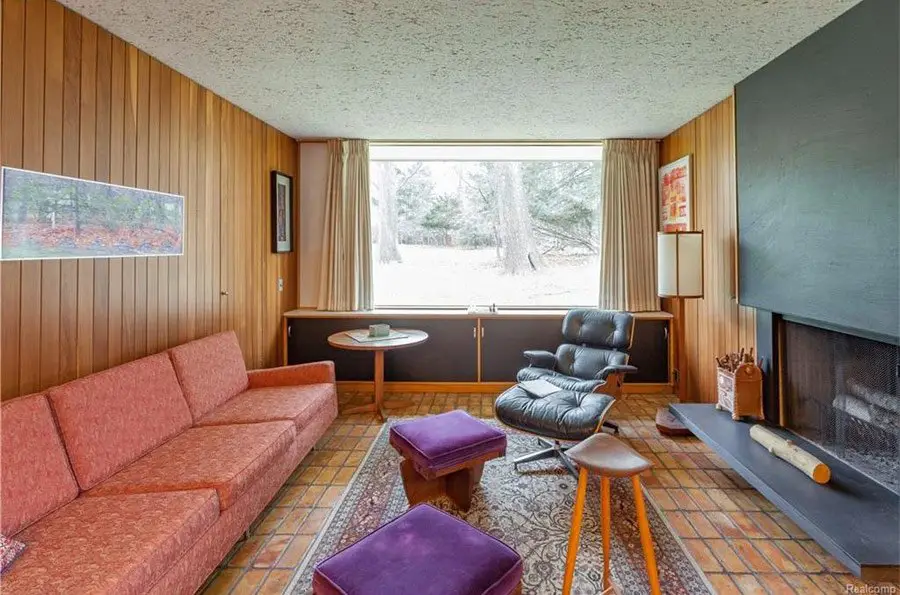 Even more than that, he would often base his design around a particular furniture piece. This is really evident in the current house in question. Indeed, there's some really nice pieces of mid-century modern furniture in the central living space, most notably, a Womb Chair by Eero Saarinen, upholstered in red fabric, which nicely complements the red sofa that sits across from it.
ALSO READ: MId-Century House in La Canada, Has Beautiful Redwood Panelling
It's easy to see how the space itself was considered in relation to these pieces. With the walls in a light brown-stained wood, and the floor tiles in an even lighter brown the furniture pieces really stand out in the space. Figuratively speaking, they provide the splashes of colour to a textured, yet decidedly blank canvas.
It should be said that his enthusiasm for a home's furnishings was not purely aesthetic. It was also a canny bit of salesmanship, since he could insist that a particular furniture piece had to be in the space, buy the furniture pieces at a discount, and sell it to the client at a mark-up.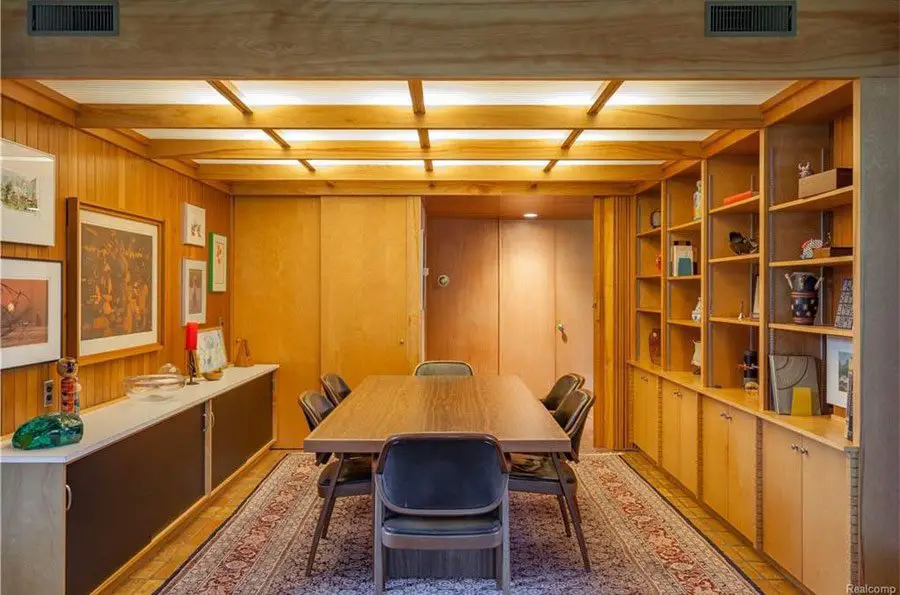 Yet looking at this particular mid-century home, his own family home, you can see that it was a genuine passion for interior design which really drove his architectural practice.