This midcentury home blends 1950s vintage elements with sleek modern design. Situated in Seattle, Washington, The Clyde Hill Residence was completely gutted and rebuilt by Garret Cord Werner Architects & Interior Designers. A fully transformed backyard overlooking natural views is the final flourish to the home's cool and composed ambience.
While the exterior qualities of the home remain the same, the interior is entirely reinvented. New windows, openings and metal roofs cater a fresh feel to the exterior. Inside, the floor plan looks completely different from its original form. 
The client wished to add more bedrooms which in turn required a reconfiguration of the main living spaces. The home's common areas are part of a spacious open plan layout. The long kitchen area, equipped with plenty of storage space, extends into a cosy coffee corner, where a stunning full-size Eero Saarinen Oval Tulip table is encircled by peachy tinted couch seating. Thanks to generous windows behind the couch, natural views extend far and beyond from this laid-back spot.
Floor to ceiling glass doors slide open from the wide living room area on the ground floor connecting inside and outside. The patio accommodating an outdoor dining area continues out to a backyard fenced by bushes and trees. An entirely new pool with a waterfall as well as entertaining decks ensure no shortage of leisurely activities in the fully transformed backyard.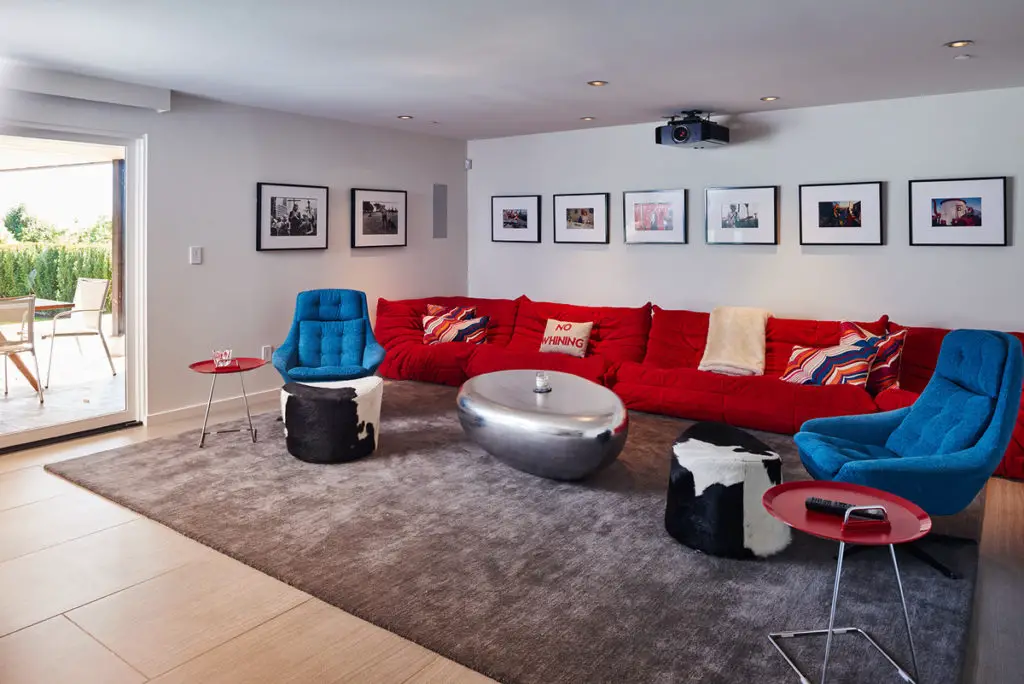 The landscape architecture doesn't only impress at the backside of the building. A private Japanese garden creates a harmonious ingredient to the home's entryway. The landscape architecture seamlessly connects inside and outside through an entirely glass facade which exhibits more delicate Japanese gardens before a wooden wall cuts off the views from the public eye.
Upstairs, a grey wall divides dining and living areas. A long line of floor to ceiling windows allows natural light to pour into both spaces and a pair of doors open out to a modern terrace overlooking the lush evergreen forests Seattle has to offer.