While traveling in Mexico, Janice Rosaire came across a 1967 post and beam midcentury which struck her at once. Although in dire need of restoration, the home's classic architecture and magnificent location, on a cliff overlooking broad views of Gig Harbor, were enough to convince Janice and her husband to make an offer on the house based on a virtual tour. Two years plus major renovations later, the couple found themselves happily settled in their dream home.
First of all, could you tell us a little bit about your background?
I was born and raised in West Hollywood. I finished my undergraduate in San Luis Obispo and graduate school in Santa Cruz. I called SF home for 25+ years. As part of our retirement planning, my husband and I moved to Seattle about 4 years ago and to Gig Harbor (a town about 35 miles south of Seattle) a little over 2 years ago when we bought our current MCM home, sight unseen.
We travel extensively through the year but maintain home bases in WA and Puerto Vallarta, Mexico. We have a passion for long distance motorcycle rides and often travel with our Yorkie, Buster.
How did you come to live in your house and what drew you to the midcentury style?
After years of coveting other people's MCM homes, my husband and I purchased our first MCM property when we moved to Seattle. We spent several months remodeling that to our idea of perfection, until we discovered our post and beam dream home two years later.
While spending a month in Mexico, I was looking through real estate postings (as I typically do) and came across our house. It was in really rough shape, but I was struck by the classic architecture and the dramatic location of the property; perched on a cliff with sweeping views. It seemed an ideal representation of MCM design with the seamless connection between indoor and outdoor living. We contacted the listing agent and asked to tour the house via facetime. It was love and first sight! We made an offer that was accepted before ever having actually physically walked through the house.
What do you think was so special about this period in American design?
The marriage of functionality and design.
What do you know about the architect who designed your house?
We spent the first 18 months trying to find out anything we could about the architect, builder and/or original owner of the house to no avail. Of course our first stop was the county clerk's office and found that no records had been retained. Then something remarkable happened. We were working in the yard and noticed a group of people in a car at the top of our driveway staring at the house.
It ended up being the original owners, who actually designed and built the house as a young couple. We invited them in, toured them around our remodel and listened attentively while they told us everything we ever wanted to know about the history of our beloved home. We were relieved to get their thumbs up and excited that they were able to provide us with a few original photos of the house.
What are the advantages/struggles of living in a midcentury house?
The main advantage of living in a MCM house is the harmony it creates between the interior and exterior living spaces. The main challenge is that they often need extensive (and expensive) updates. You may end up investing more in modernizing a classic than in building from scratch. And, if you want to retain original features, you must be willing to live with some imperfections that come with age. That said, it was ALL worth it to us to live in and share with others this unique piece of history.
What's your favorite part of the house and why?
The obvious choice would be our living room given the expansive views and natural light, but my favorite room is actually the guest bathroom. This space turned out exactly as I had envisioned. The design centers around a vanity which is a modified Danish Modern dresser I found on ebay.
I learned quickly the importance of layers of varnish after our first houseguest left a wet washcloth on the vanity, leaving a white ring on my otherwise perfect vintage piece. Thank goodness for Vaseline, which is a miracle worker for removing water marks. The other key feature in the bathroom is the shower wall that has handmade ceramic tiles in a geometric formation. I love the design so much, I replicated at the entryway.
Have you had to renovate any part of the house? If so, which area(s)?
We recently completed a 2+ year, EXTENSIVE renovation on the house. Nothing was left untouched. And although we did move some walls and rearranged some living spaces, we were committed to retaining the original architectural integrity that makes a MCM special. We went through numerous contractors. Unfortunately, we can't recommend any of them. It was a very painful process with the most notable lesson learned being, you need to be closely involved with every decision and every bit of work being done. There are no shortcuts!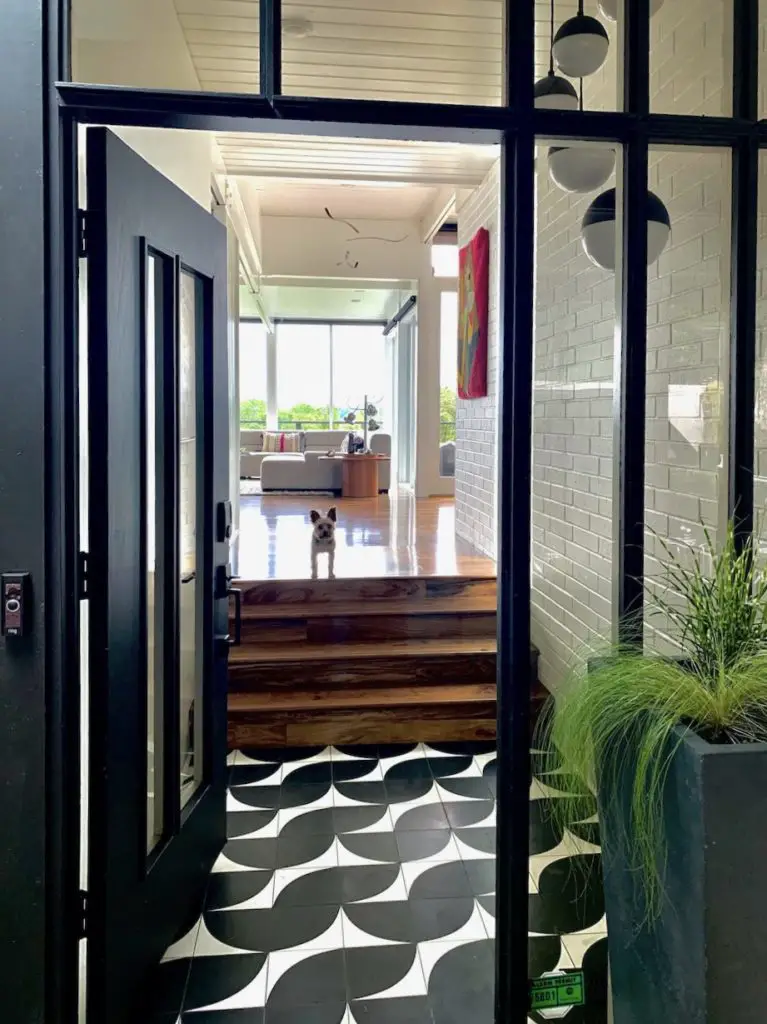 Last but not least, do you have any tips for people interested in buying a midcentury house today? What should they pay attention to and why?
Start with a passion for the period and consider yourself a steward of something very special. This will comfort you while you deal with the inherent challenges of living in and being responsible for something more than half a century old. And for heaven's sake, honor the original design. Do no harm!
If your goal is to simply turn an MCM house into a modern box, it would be cheaper and more respectful to purchase a modern box. Nothing wrong with a modern box and it's easy to see how MCM design lends itself to metamorphosing into this, but please resist the temptation. There are beautiful modern homes available so please leave the MCM treasures to those of us who cherish them.
One more thing, don't feel compelled to furnish an MCM with exclusively MCM stuff! No need to make your home a cliché! Good design works with good design, no matter the era.