The Termitary House is an enchanting modern home that experiments with light, shadows and recycled materials, built on a coastal region of Vietnam. Due to the temperamental weather conditions of this region, Da Nang, the architects were compelled to design a building that was both functional and adaptable as well as uniquely connected to its local environment.
Da Nang is where the Ancient Champa kingdom once stood, and where the remains of the Champa Towers still stand today. A quick glance at these remains and you can see a marked resemblance between that and the Termitary House. The bricks alone are the made from the very same materials used to construct the towers.
From the outside, the building appears to be a perfect cube. The perforated outer walls are made of bricks which allow air to breeze through the building, a smart trick to keep the building cool in the face of Vietnam's muggy heat. Aesthetically, this is also very appealing. Especially at night as the lights from inside the building project a warm speckled glow through the bricks.
The building's porosity is such that the infiltrating light is deeply influenced by the quality of light throughout the day, creating interesting combinations of shadows throughout the space. As the day wears on and the height of the sun rises and falls, the deep red rues of the bricks project different shades of red and purple along the walls and floors, illuminating the space in a reddish glow.
The Termitary House was so-named after the unique nest-building habits of termites – a common insect found in the local area – and the interior was somewhat designed to reflect this. The building is mainly open-plan, giving further relief from Vietnam's temperatures, and communal areas can be found in the building's centre, with the smaller private rooms fitted around the sides.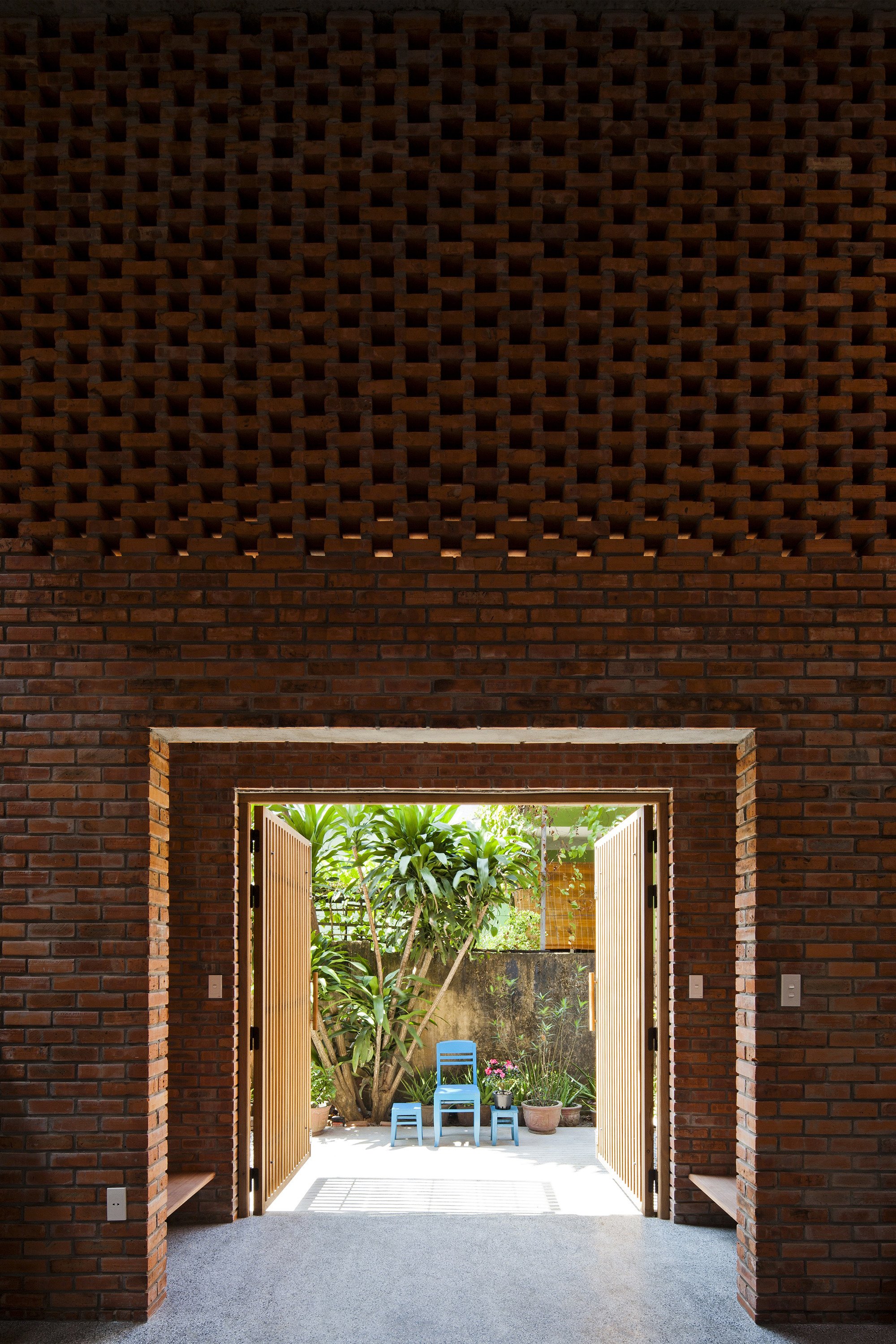 Furniture is sparse but functional, and is made from the timber of the roof of the house that previously stood. The matching brown tones of the bricks and the timber has a calming effect and adds to the aesthetic consistency of the space. Other custom-made wooden features such as window shutters have been meticulously crafted to allow slithers of light to filter into the house.
Overall this modern build is an exquisite example of fine craftsmanship and is deeply responsive to its local environment, we love it!