By its nature, landscaping is something that often takes a peripheral role in people's appreciation of mid-century modern homes. But if it's done badly it can easily ruin a perfectly beautiful home. Here we have listed five rules that need to be followed to ensure correct landscaping of a mid-century home.
1. RESPECT
A good mid-century home is a thing of beauty. Landscaping should never be employed to hide this. Instead, it should elevate the already beautiful design. This is something well reflected in Richard Neutra's Singleton Residence, where the landscaping closely mirrors the rectangular, transparent and open form of the home itself.
2. STRUCTURE
Speaking of which, since the style promotes clarity of form and strong lines, the landscaping should build on this, emphasising clear demarcations between different design elements. Hardscaping is central to this, since it imposes the same order that the modernist structure achieves, allowing plants to grow wild without obscuring the lines.
A house that really exemplifies this is a home we recently covered by architect John Gougeon, where a lot of space has been afforded for nature to take its course.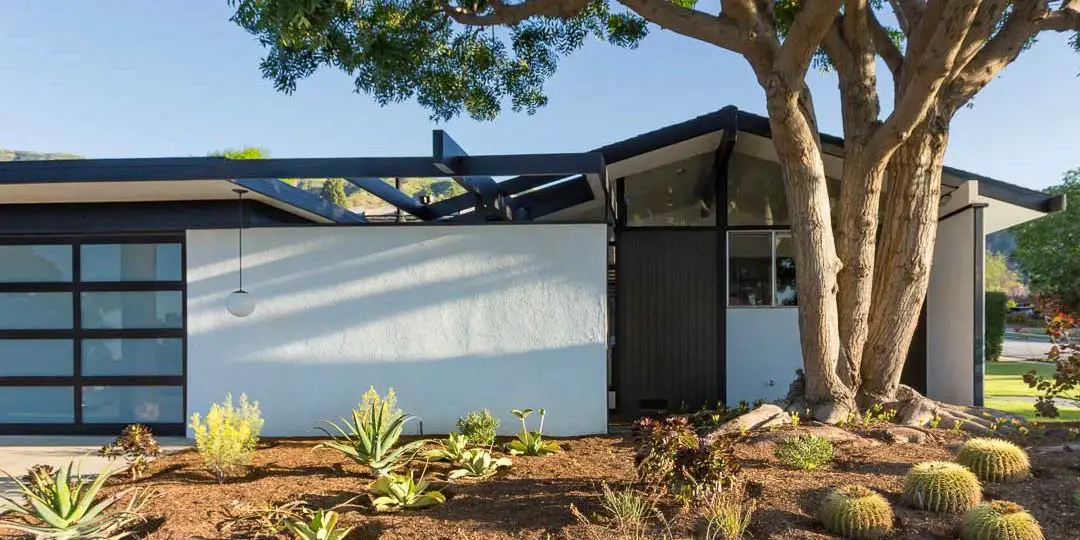 3. FUNCTIONAL
The Gougeon example also underscores another important consideration: ease of use, one of the major features of Joseph Eichler homes or the Case Study Houses, modern homes which were easy to construct and easy to maintain. This ethic should be carried forth in the landscaping, with the introduction of plants and other features that are low-cost and low-care, things like succulents and river rock.
4. RESTRAINT
Drawing on the previous examples, but also on another newly built house in Cupertino, it's also important to emphasise the role that landscaping can play in softening the ubiquitous blank walls of mid-century homes without interrupting their roof lines. In the Cupertino house, the landscaping really brightens up the wall at the front of the garden while retaining the impact of the façade pure form.
5. MODERN
In all these houses, you will also notice that traditional stylings are conspicuous in their absence. A good mid-century design should always avoid traditional flourishes. Indeed, it doesn't matter what "modern" you choose, so long as it's modern.
Do you own a mid-century house or work as landscape architect and want to share your green projects? Contact us with some photos at: info@midcenturyhome.com