This modern home is designed around the delicate root systems of the mature oak and pecan trees that surround the building. Situated in Austin, Texas, the Canopy House was brought to completion by A Parallel Architecture in 2018. Due to fast population growth over the past decade, rising land values as well as construction costs, economical, sustainable and adaptive architecture methods were important during the construction process.
As indicated by the name, the home design resembles that of a large canopy structure built around a central courtyard. The home intends to create plenty of room for outdoor living and features multiple outdoor dining and lounging areas as well as spaces for leisure and activity. "The home's roof canopy and overhangs are configured to take advantage of optimal solar orientation and prevailing breezes, while the building footprint is carefully threaded between the towering oak and pecan trees to maximize beneficial seasonal shading," the architects explain.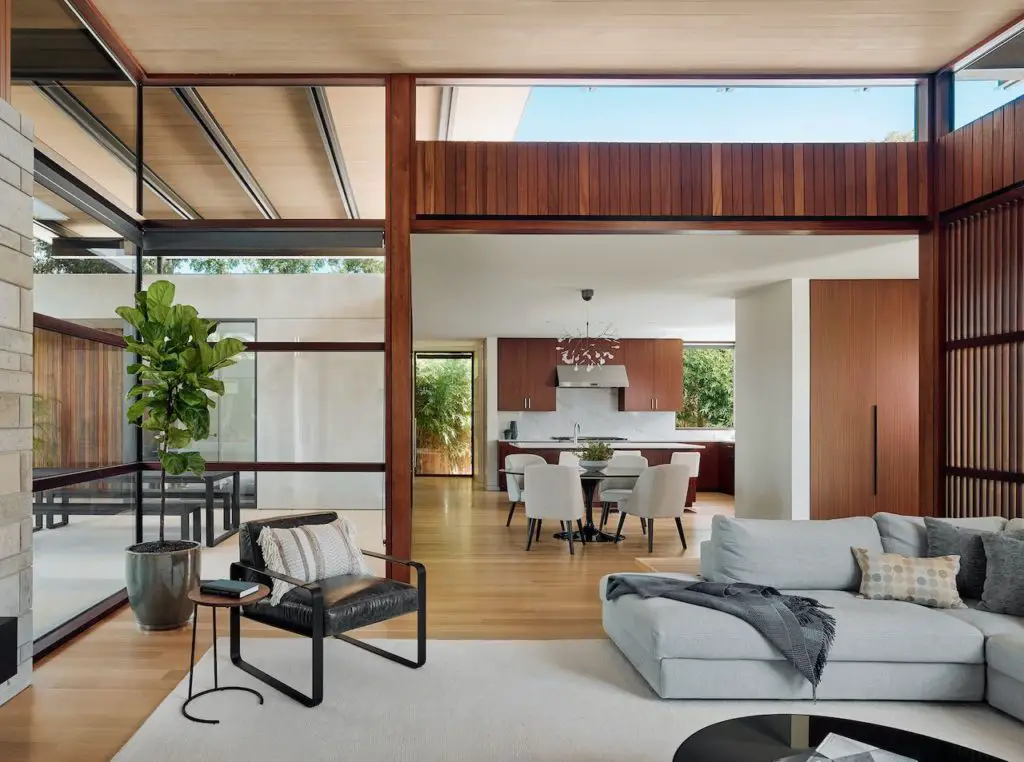 Windows expose the inside out and vice versa on every side of the home and invite natural light to pour in throughout the day. Thanks to the generous amount of windows as well as sliding doors around the back and the side of the home which open to the various patios, gardens and courtyard, interior and exterior spaces seamlessly connect to one another.
Wood clad is used throughout the home, from the exterior bits between windows to details in the living room as well as further in the kitchen. Wooden floors are a natural match while clean while walls and ceilings lighten up the spaces. By using glass instead of a solid material for many of the walls inside, an effortless flow between the spaces prevails. A generous skylight in the middle of the structure brings extra light through to the interior.
In addition to the main canopy structure which accommodates the main social areas including kitchen, living, and dining areas, a second canopy structure sits on the southwest corner of the property. Its overhangs extend rather far, providing protection to the garden and pool from the blistering sun that is typical to the area. In the words of the architects, "Given the hot Texas climate, these deep shaded patios with generous connections to the indoors are enjoyable year-round and nearly double the amount of living space in the home."