This delightful beachside retreat benefits from a wealth of beautiful materials. Dubbed the "Courtyard House", the contemporary style home is located on the 13th Beach golf course in Victoria, Australia, was designed by studio Auhaus and built by Ashley Crowe Builders.
ALSO READ: A Mid-Century Home Renovation, Full of Idiosyncrasies
Such materials allow the prevailing colour palette of black, white and brown to be executed in a really classy way.
High quality wood, which is most present in the walls, floors and more formal seating areas, gives a variety of natural, earthy tones, perhaps best reflected in the washed-out browns of the unvarnished decking.
ALSO READ: Subtle Minimalism pervades Tim Cuppett Architects' River Road House
ALSO READ: A Mid-Century, White, Palm Springs Oasis
Meanwhile, white and black prevails in some of the cosier areas, such as the living room, where a plush white sofa faces a large black wood burning fire in a beautiful contrast.
But in many cases these colours are also derived from materials where they naturally occur. This is most apparent in the white of the marble kitchen worktops and the black stones beside the pool in the garden.
One of the more pleasing contemporary home design elements is the tall porch at the entrance to the house. Projecting outwards, it has the twin effect of pulling people inwards while also beckoning to the surrounding environment.
This is enhanced further by the decking that sits on top of the sandy dunes underneath, giving the sense that the house is really plugged into the beach environment beyond.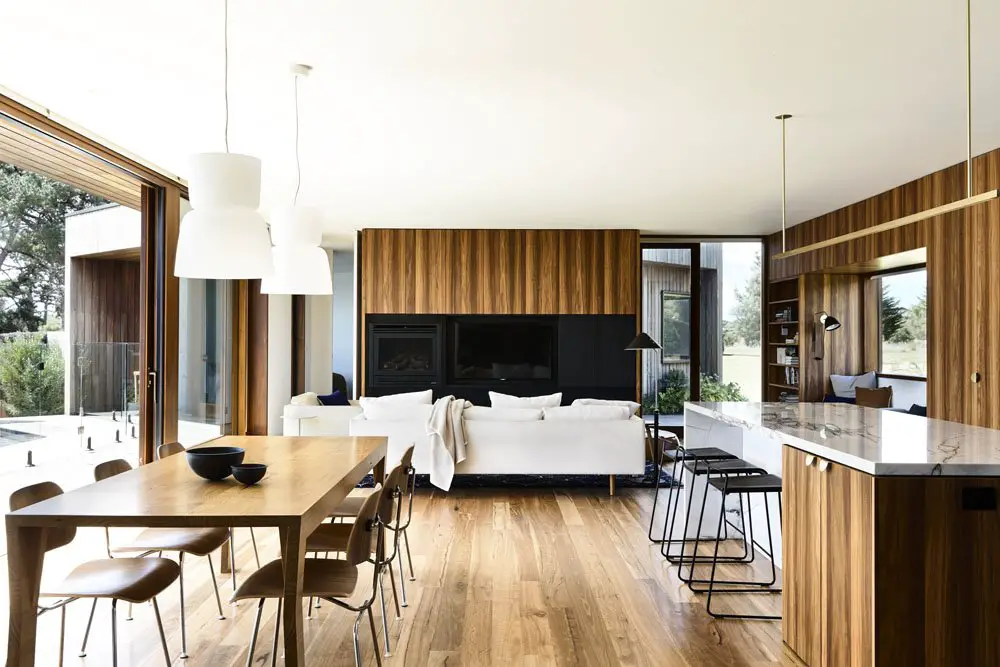 As modern homes go, this one has been really well thought through. Beside the expert use of materials, the layout has been arranged such that all the rooms face into the central courtyard, with cut-outs to allow foliage to spill through, all of which provides the kind of connectedness that draws a direct lineage from earlier mid-century modern homes. It's no surprise, then, that it was shortlisted for the Houses Awards 2016.